October 12, 2017
  Home | About | Legislative | Benefits | Media | Contact
   TOP NEWS
---
Legislature Honors "Old Hickory" Division NCNN
The House and Senate of the North Carolina General Assembly pass resolutions honoring the 100th Anniversary of the 30th Infantry Division "Old Hickory".
The 30th Infantry Division was officially established and activated on July 18, 1917, as an Army National Guard division drawing units from North Carolina, South Carolina, Georgia, and Tennessee. The 30th was nicknamed "Old Hickory" in honor of President Andrew Jackson, who was born near the borders of North and South Carolina and Tennessee, where the vast majority of its soldiers resided in.
Career Pathways Institute on-site career training NCNGA
ProTrain, LLC, a national educational leader is pleased to announce a new partnership with the North Carolina National Guard Association in Raleigh where their new Career Pathways Institute (CPI) will open in September offering in class and online offerings. CPI will offer on-site career training in the IT and Allied Health fields, among others. Following the ProTrain spirit of "Education-2-Employment," CPI students will be trained in high-demand portable career fields and upon completion, will be assisted in job placement through GradCast, giving them access to 675K+ industry specific employers that are hiring across the US. In addition, members of the North Carolina Guard Association will receive a 10 percent discount when they register for training with CPI. For more information on CPI, call (844) 235-9108 or find us online at www.cpi.institute.
Read More…
Poll: Do you like the Army's 'pinks and greens' prototype? Defense News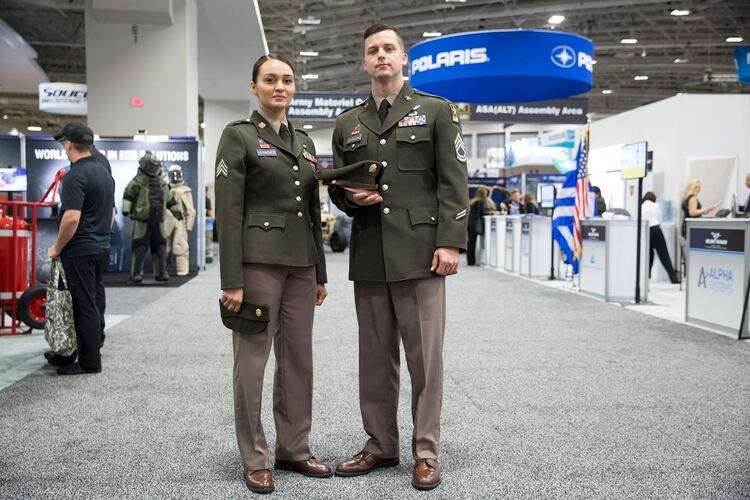 The Army is working on a revival of a World War II-era service uniform, and prototypes of the proposed "pinks and greens" made their debut on the conference floor of the annual AUSA meeting in Washington, D.C. A handful of soldiers are roaming around the conference in variations of the iconic olive uniform, testing out skirts vs. pants and folding caps vs. service caps.
What do you think of the uniforms? Tell us by voting in our poll.
UNC-Chapel Hill accepts $20 million challenge to support education for military families UNC News
With the launch of "For All Kind: The Campaign for Carolina" on Oct. 6, 2017, the University of North Carolina at Chapel Hill has announced a $20 million challenge in support of need-based aid for the children of service men and women. Running through October 2019, the Red, White and Carolina Blue Challenge will further open the door to a world-class, Carolina education for students from military families who qualify for the Carolina Covenant. Read More…
Charitable ride rolls benefitting guardsmen's education foundation into Roseboro Fayetteville Observer
About 50 cyclists representing the North Carolina National Guard, first responders and supporters descended on the National Guard Armory here to cap the first day of the annual Guard 2 Beach ride.
Starting at the North Carolina National Guard Joint Force Headquarters in Raleigh early Friday, the cyclists made their way more than 75 miles to the small town of Roseboro in Sampson County. Read More…
North Carolina sends more help to Puerto Rico to assist with Hurricane Maria recovery ABC11
North Carolina is sending a team of experts to help Puerto Rico with recovery efforts after Hurricane Maria. The 10 are part of local and state emergency management staff and will help local officials coordinate disaster response and recovery efforts. Six are state emergency management staff, three are emergency managers from Chatham, Haywood and Hyde Counties and one is a State Highway Patrol employee. Read More…
NC National Guard members set to deploy to Middle East WSOCTV
The North Carolina Army National Guard's 505th Engineer Battalion will soon be deployed to the Middle East in support of Operation Spartan Shield. They held a deployment ceremony Saturday for the 200 men and women from across the area. Surrounding them at the ceremony, were the mothers, fathers, sons, daughters, brothers and sisters they'll be leaving behind. "This is what he really wanted to do from (when he was) little," Renee Douglas said of her son, who is being deployed for the first time. Read More…
Military Lessons: Sustainment and Sustainability NCSU News
When Allen Boyette was finishing his final year at Wilson's Fike High School, his father told him he had to do two things: take a typing class and sign up for NC State's Army ROTC program before his freshman year. Boyette didn't particularly want to do either. Now, as he sits at his desk at NC State's Administrative Services III as the interim senior director for energy systems for facilities and maintenance, with three college degrees hanging on the wall, and when he's on duty with the North Carolina National Guard, he's pretty happy he listened to his dad. Read More…
Trump to attend fundraiser in Greensboro on Saturday DVIDS 

President Donald Trump will be in Greensboro Saturday for a fundraiser dinner. Trump will be at the home of Republican supporters Louis Dejoy and Aldona Wos, according to WRAL. Tickets for the event range from $2,700 to $100,000, WRAL and the Raleigh News & Observer reported. Dejoy is a local businessman and Wos served as secretary of the N.C. Department of Health and Human Services under former Gov. Pat McCrory. Susan Danielsen, spokeswoman with Greensboro police, said the agency will support the U.S. Secret Service with traffic control and exterior security at the event. She did not give details about what streets will be blocked off during the president's visit. Read More…
October — Today in Guard History National Guard 

1944 River, Germany – The 1st Battalion, 116th Infantry from Virginia, part of the 29th Infantry Division (DC, MD, VA) and elements of the 119th Infantry from North Carolina, part of the 30th Infantry Division (NC, SC, TN) in support of other American units of the XIX Corps prepare to launch a river crossing assault against well-fortified enemy positions. Moving forward on the morning of the 13th the assault is met with heavy and accurate artillery fire, causing many casualties. However, the river is crossed and a breech in the German line is affected, allowing the 3rd Battalion, 120th Infantry (TN), 30th Infantry Division and armored elements to exploit the gap. Read More…
Train as you fight to save lives DVIDS
On a corner of the Charlotte-Douglas International Airport 25 agencies and over 100 volunteers gathered to participate in the Triennial National Disaster Medical Systems Exercise to fulfill a Federal Aviation Administration requirement. The exercise goal is to demonstrate the ability to alert, notify, and respond to an aircraft accident utilizing and communicating between various organizations to ultimately recover and render medical aid to victims. A C-130 Hercules aircraft for the 145th Airlift Wing was utilized in the scenario to add realism, and fire-fighters from the 145th Civil Engineer Squadron participated as part of our interagency agreements. Read More…
State officials deliver school supplies Rocky Mount Telegram
School supplies sent from the governor's office will help four local Nash-Rocky Mount Public Schools. As part of Gov. Roy Cooper's School Supply Drive, D.S. Johnson Elementary School, Fairview Elementary School, Baskerville Elementary School and J.W. Parker Middle School will have much needed supplies given to their respective school. The supplies were delivered Monday by Erik Hooks, secretary of the N.C. Department of Public Safety, and Eric Boyette, secretary of the N.C. Department of Information Technology and state chief information officer, to students at D.S. Johnson Elementary School. The supplies were donated and collected by employees of the N.C. Department of Public Safety, N.C. Department of Information Technology and N.C. National Guard in partnership with Communities In Schools of the Rocky Mount Region. Read More…
The Weekly Guardsman
---
Recent Issues | Subscribe | Unsubscribe |
Craig Lloyd, Executive Director, NCNGA, 919-851-3390, ext. 4 | Contact
Katie Westbrooks, Editor, NCNGA 919-851-3390, ext.2  | Contribute news
Thomas Arndt, Webmaster
North Carolina National Guard Association
7410 Chapel Hill Road | Raleigh, North Carolina 27607 | 919-851-3390 | Contact Us